Top Quality Tipping Skips and Tipping Bins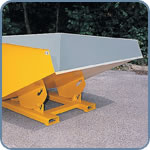 Contact's Tipping Skips & Tipping Bins are one of the most durable skips on the market, the simple yet effective design has a low mass to keep forklift truck de-ration to minimum.
Our tipping skips come in golden yellow painted finish but other paint options are available as well as a galvanised finish.
Use our skips to help keep working areas clear and allow safe and speedy removal of scrap or rubbish to the appropriate skip or waste compactor.
Featured Models:
The Range
Discover our range of forklift tipping skips for sale today. We offer regular-duty models for clearing rubbish from factories and workshops, plus heavy-duty models for construction sites and heavy industry.
Our regular duty skips are best suited for plastics, wood and general waste. For bricks, metal and concrete, take a look at our heavy-duty models.
Mild Steel Construction
The majority of our skips are made from mild steel. Combined with our renowned quality, you can be sure your tipping bin is built to last – particularly as everything has a no quibble guarantee, for the ultimate peace of mind.
With a choice of a durable yellow painted finish, hot-dip galvanisation or other paint options, you can customise skip colours for particular jobs.
We also have a stainless-steel version – ideal for the food and drink industry, these skips are corrosion resistant and easy to clean.
Capacity
Our tipping bins also come in a range of capacities and weights. They can carry from 1,000 to 1,500 kg and between 0.25 and 2 cubic meters.
We construct all our forklift attachments to be as durable and as light as possible. This means the least possible de-rating, allowing your forklift to carry more.
Other Features
We also offer many optional extras such as castors, lids and auto-release systems. These are really useful as they make the skips more versatile. An auto-release system can even be added to a model you've purchased previously and allows the driver to empty the skip from within the vehicle.
Our Clients
At Contact Attachments, we pride ourselves on our service and quality of products. Our roll forward skips have an excellent reputation in the industry and have been installed with many blue-chip companies, such as Coca-Cola, Rolls-Royce, and Travis Perkins to name a few.
All our models are fully tested and certified. Browse the range or get in touch today!